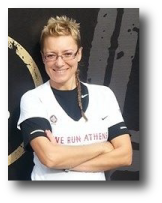 Profile
I was born in Senegal, daughter of French parents. I followed my mother's footsteps, an aesthetician, but with some dose of medical curiosity, my father's legacy! I studied Aesthetics and Cosmetology in the Health Department of the Technological Educational Institute of Athens and continued later on completing a two year program to become a certified surgery nurse assistant.
I started working next to my mother, who was the owner of a very renowned and prestigious beauty center and who became my main trainer. We continued working together for several years. Up until her retirement she was always by my side, guiding, teaching me and passing on all of her secrets and techniques, which pamper and embrace the feminine nature.
Having attained such unique knowledge and experience in Facial therapies and cellulite massage therapy, which I now call Manual Sculpting Therapy, I decided to expand my horizons and services by mastering alternative techniques and various massage therapies through multiple seminars.
Seminars that I participate either in my home country (Greece) or by traveling around in other countries.
My personal goal and highest reward are being able, through my techniques, to make people feel beautiful, painless and safe!